Solid Mastermind the online training resource and community for Solid Edge have recently launched a series of Top Tips video tutorials for Solid Edge. Many of these can be found on YouTube. They are all in widescreen HD format so the quality is excellent especially when viewed in full screen mode.
Each highly focused video training session concentrates on a specific area of functionality within Solid Edge. They are all designed to be around 2 minutes or less in duration in order to make them quick to consume and easy to watch.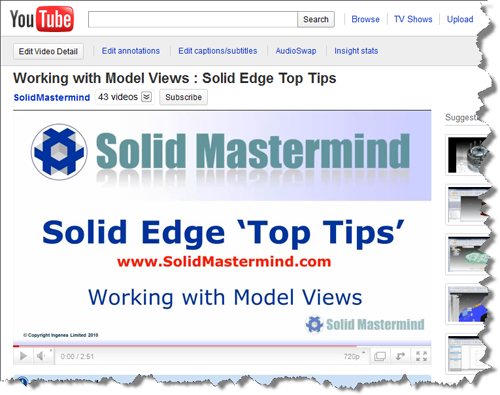 [1]
The Top Tips videos available cover all aspects of Solid Edge including part modelling, sheet metal, assembly, drafting and more.
The links below will take you directly to sample videos that focus on the Assembly environment in Solid Edge..... Enjoy.
Top Edging
Jon Sutcliffe