June 16th, 2011 •
Related
•
Filed Under
•

Print This
Warning
: Use of undefined constant home_feature_photo - assumed 'home_feature_photo' (this will throw an Error in a future version of PHP) in
/home/synchron/public_html/blog/wp-content/themes/WP-MagTheme10-Prem/single.php
on line
70
In this second Solid Edge ST4 preview we'll look at the enhancements to the Simulation and Drafting environments
Simulation
Sheet Metal Analysis
It is now possible to create and use mid surfaces of sheet metal models during a part and assembly simulation. The mid surfaces are created as ordered features so they are completely associative to the original sheet metal model allowing the accommodation of changes. The parts are meshed with shell elements which are ideal for sheet metal in terms of speeding up the whole analysis process. Also the mid surfaces can be united with solid models resulting in a combination of fast solving 2D shell and 3D solid elements. This allows the simulation of more complex designs and more real world scenarios that are commonly found within machine designs. Of course this is not just restricted to sheet metal parts and can also be used on uniform thickness plastic parts in a similar way.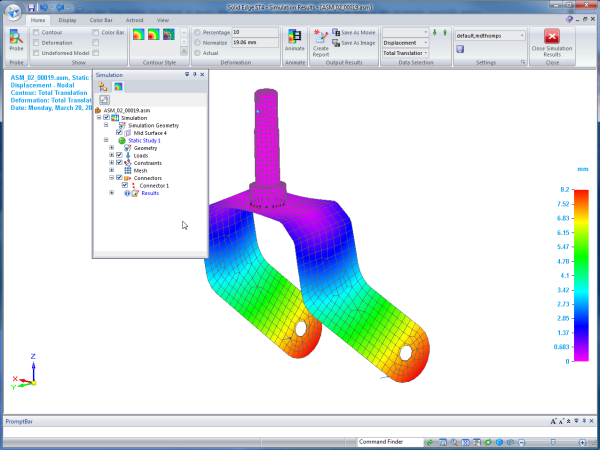 Improved meshing
There have been several improvements to the meshing capabilities that will produce faster results without sacrificing any accuracy. This includes the ability to:
Create a mapped mesh which creates a more orderly and well-shaped mesh
The ability to control the number of elements on an edge as well as the maximum number of elements on small faces.
Automatic adjustment of mesh size across surfaces that can accommodate a small radius of curvature.
Increased mesh elements around stress raisers such as holes. This will increase accuracy where needed and at the same time conserve element counts in less important areas.
Usability
ST4 also brings some new levels of usability to the Simulation environment. For example it is now possible to quickly edit a study simply by double clicking on it in the navigator. Also new functionality improves the creation of face to face connections whilst new display glyphs for loads and restraints will improve their visibility and understanding. The numerical formatting of the colour bar has also been enhanced in order to improve the readability of results. Finally it is now possible to determine the stress and displacement caused by material expansion or contraction which is caused by temperature changes.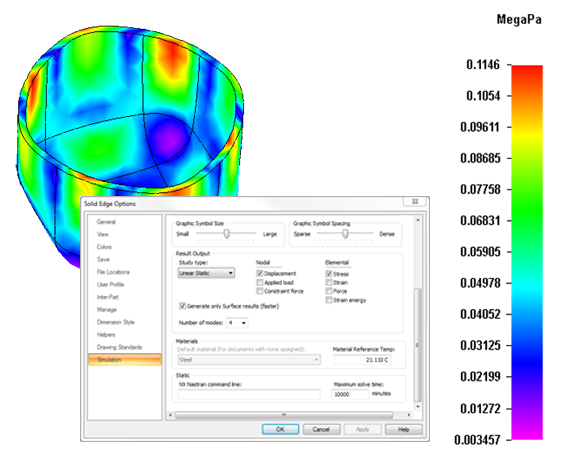 Drafting
Drawing View Captions
Added some great new control over the captions that appear for drawing views. Its now possible to have multi-line captions which contain property text. This will make it very easy to establish and use drawing view naming conventions. For example the view caption could contain information such as the sheet number, view scale, view rotation, text comments and much more. The list is endless.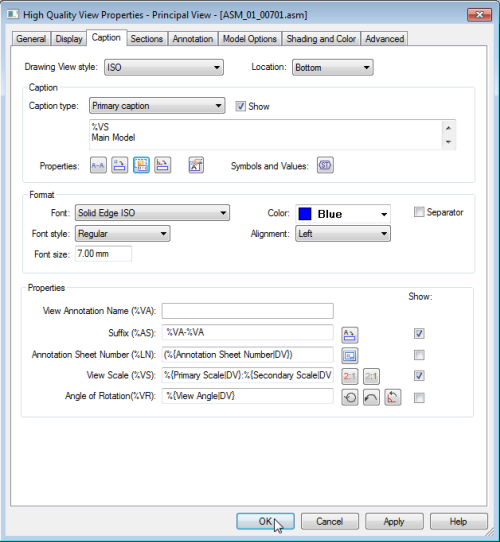 Parts Lists
An awful lot of work has gone into the Parts List functionality over the past few releases and ST4 sees some more work done in this area. Parts list can now automate the aspect ratio for the cells within the table and the text will shrink to fit, headers and titles can be merged together and the text can be rotated to be vertical. Also we now have the ability to add user defined rows, override the cell contents and apply formatting to the text within the cells to make it bold or italic etc.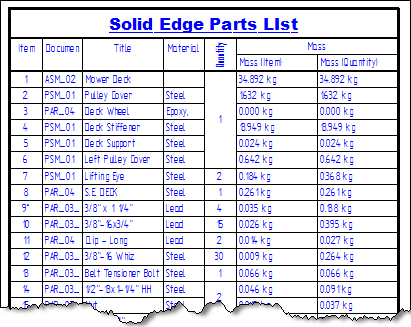 On a slightly different subject, text boxes now support stacked fractions, subscript, superscript, bullets and numbering. There is also an option to adjust the text width to fit into the text box
The Auto Ballooning command now has the capability to place all of the balloons for a stack of parts in one single click. An example of this is for a Fastener System. We no longer need to place the separate balloons and then attach them to each other. Callouts now support a callout aspect ratio with control over their border and the ability to do word wrapping
The dimension tools have been improved and it is now very easy to created jogged dimension lines in order to detail features that are close together. There is also a new command that allows the quick duplication of dimension attributes so that the prefix, type and style options can be copied from one dimension to another. This is also very useful for cleaning up imported drawings
Usability
Finally for this post, we can see that ST4 has a very strong focus on improved usability in the drafting environment. Some example of this can be seen in the following points.
Derive sheet scale from first placed view with an option to link sheet scale to view scale.
New lock command to fix a view position in the drawing.
Undo is now supported for deleted views.
Drawing view contents now display when moving the views.
Print preview for single and multiple sheet printing.
An improved user interface for inserting special symbols.
ST4 should release to manufacturing at some stage next month
Until next time
Top Edging
Jon Sutcliffe

Why not visit Solid Mastermind THE Community for Solid Edge Professionals. Online Solid Edge Video training, utilities, process maps, best practices, knowledge base and much more.