September 2nd, 2011 •
Related
•
Filed Under
•

Print This
Warning
: Use of undefined constant home_feature_photo - assumed 'home_feature_photo' (this will throw an Error in a future version of PHP) in
/home/synchron/public_html/blog/wp-content/themes/WP-MagTheme10-Prem/single.php
on line
70
Recently Siemens announced that there was a renewed focus on the Solid Edge Educational program. There is now a real push to introduce many more schools, colleges and universities to the power and flexibility of Solid Edge
In a bold move to support this, this week they announced that students can now get hold of Solid Edge ST4 absolutely free of charge just by visiting the Solid Edge Student Edition page.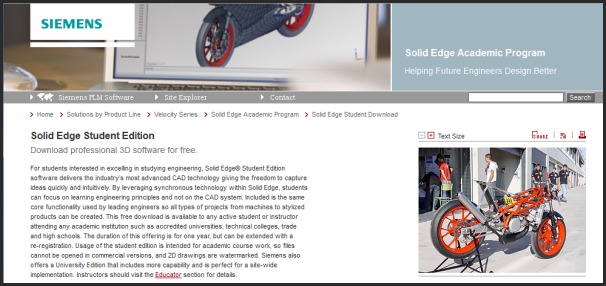 All you need to do is to provide some details including your name, e-mail address and so on. It really is very simple.
Once this is done, you should receive an e-mail which will have your Solid Edge license file attached. It will also contain the link you need to use to download the software. In addition to this there are some instructions on how to join the dedicated student forum where you can share ideas and communicate with other like-minded students.
The download link is only valid for 24 hours so its best to act quickly and download the installation right away.
The only real restriction with the student version is that any model and drawing files that are created, cannot then be opened and manipulated within a commercial version of Solid Edge. Everything else is the same, this includes the import and export formats as well as modelling functionality.
So what are you waiting for? Give yourself a head start by using industry leading production CAD technology to prepare yourself for the job market.
Learning Solid Edge
Once you're up and running with Solid Edge and have perhaps run through the built in tutorials, you might find you're craving for more information or training material. Here are a few suggested sites to visit to get hold of some free video training resources.

Top Edging
Jon Sutcliffe