March 31st, 2010 •
Related
•
Filed Under
•

Print This
Warning
: Use of undefined constant home_feature_photo - assumed 'home_feature_photo' (this will throw an Error in a future version of PHP) in
/home/synchron/public_html/blog/wp-content/themes/WP-MagTheme10-Prem/single.php
on line
70
We are nearing that time of year again when the latest and greatest, next version of Solid Edge will be unveiled to the public. This gives us chance to start learning about the great new enhancements that will help us design faster and smarter than ever before.
Even though there is no information publicly available just yet, we were lucky enough to be given a sneak preview of one enhancement courtesy of Dan Staples VP of Product Development for Solid Edge. Dan was kind enough to post a video on the Solid Edge Newsgroup. This specific enhancement will no doubt please many Solid Edge users out there who have recently migrated from Version 20 to ST or ST2. This concerns the ability to customise the new Ribbon interface that was introduced at these versions. Previously the only customisation available was that of the Quick Access Toolbar. The ribbons themselves were completely fixed.
Well it appears that the Solid Edge development team are taking advantage of some new tools available in Office 2010 that now allow the Command Ribbons to be customised to suit your specific needs.
The process of customisation looks very simple indeed and is initiated by right clicking on the Ribbon and choosing 'Customise the Ribbon'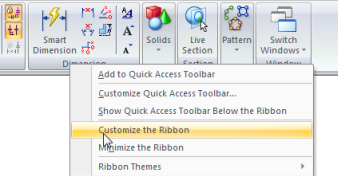 This will reveal the Customise dialogue where the specific Solid Edge environment to be changed can be selected from the drop down menu at the top. Then the pane on the right hand side will display the existing structure of the Ribbons along with the different tab names, the groups they contain and the commands within them. As you can see from the image below it is possible to either add or remove Groups, Commands and Separators and even add new Command Ribbon Tabs allowing full customisation of this area of the interface.
In addition to adding and removing commands it is possible to control the command button size as well as whether text is displayed for it. This is being shown with repesct to the Smart Dimension below.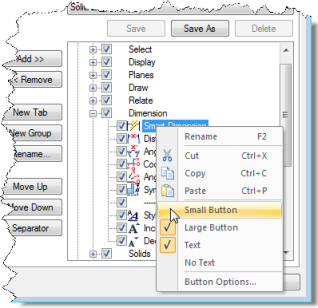 Once the customisations are complete they can be saved as a specific Theme Name

Swapping between themes is as simple as right clicking on the Ribbon again and changing the one that is selected under the Ribbon Themes section as shown below. The one thing that remains to be seen is whether or not the themes are portable so that they can be shared amongst multiple users. Now that would be cool but I guess we will have to wait until the official product launch before we find out. One thing we do know right now though, is that any customisation WILL now survive from version to version so nothing will be lost during an upgrade. Great news.
One interesting thing that may have been spotted by some of the more keen eyed readers concerns an additional tab on the Customise dialogue that is titled 'Radial Menu'. Now this is purely speculation but could this be similar to some of the heads up context sensitive menus that we have started to see in other competitive products? Only time will tell but we promise to keep you posted.




To finish this post I'll leave you with a short video that shows all this new customisation in action. Enjoy.

ST3 Interface Customisation Video

Top Edging

Jon Sutcliffe

Why not visit Solid Mastermind THE Community for Solid Edge Professionals.

For more information please take a look at the about page.