July 15th, 2011 •
Related
•
Filed Under
•

Print This
Warning
: Use of undefined constant home_feature_photo - assumed 'home_feature_photo' (this will throw an Error in a future version of PHP) in
/home/synchron/public_html/blog/wp-content/themes/WP-MagTheme10-Prem/single.php
on line
70
On Thursday 14th July 2011 Jon Sutcliffe and I, along with about 700 others, attended the Siemens PLM Connection UK 2011 event at the Ricoh Arena in Coventry.
This was probably the best attended event hosted by Siemens PLM Software ever in the UK. Yes, Mark Webber from the Red Bull Racing Formula One team was a guest speaker but there can only be one reason such a good attendance – Solid Edge. It was the first event to actually embrace the Solid Edge community in the UK. I would guess over half of the attendees were Solid Edge users.
Here is last years Red Bull F1 car proudly on display in the reception area.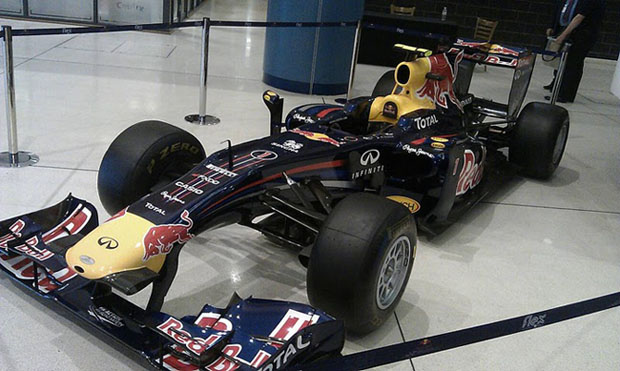 Mark gave us a pretty good insight into F1 from his side of the fence and I'm sure he would tell you that his presentation "wasn't bad for a number two driver". Any F1 fans that watched either the 2010 or 2011 British GP will be able to relate to that phrase.
It made me wonder how effective I would be at my job if I was constantly being subjected to forces of between 1 and 5G and having a colleague intermittently speaking in my ear. I guess the moral is all about focus.
... so focussing on Solid Edge.
Bill McClure the VP for Velocity at Siemens PLM had travelled over from the birthplace of Solid Edge, Huntsville Alabama, and gave a presentation called Future Directions - Solid Edge.
One part of his presentation gave a brief overview of Solid Edge ST4. What struck me was the number of enhancements in this release. Not new marquee features but just sound enhancements to help the existing Solid Edge users. Please check out our other posts regarding this.
Two of the most active UK based Solid Edge resellers, Cutting Edge Solutions and Solid Applications took stage in the afternoon to expand upon what's new in Solid Edge ST4 to their customers in separate breakout sessions.
One of the sessions we attended was named an Audience with Bill McClure. This was an open forum. Two key points of note from this session was that Siemens now operates a separate financial reporting mechanism for Solid Edge. This has helped justify, and enable, substantial reinvestment in product development and marketing for Solid Edge. That can only be good for all the current and future Solid Edge users out there. He also reiterated that Solid Edge core competencies will remain in product design, simulation and data management.
From a Solid Edge perspective the event could have been better. Sessions were a little rushed, but comparing this to last year things are moving in the right direction. A dedicated focus on all things Solid Edge is definitely the key.
If you have any views on how Siemens PLM could embrace and serve the Solid Edge community better let us know by leaving a comment below.
In the meantime Top Edging.
Arthur Sexton

Why not visit Solid Mastermind THE Community for Solid Edge Professionals. Online Solid Edge Video training, utilities, process maps, best practices, knowledge base and much more.