June 30th, 2008 •
Related
•
Filed Under
•

Print This
Warning
: Use of undefined constant home_feature_photo - assumed 'home_feature_photo' (this will throw an Error in a future version of PHP) in
/home/synchron/public_html/blog/wp-content/themes/WP-MagTheme10-Prem/single.php
on line
70
We have already seen a few examples of how Solid Edge with Synchronous Technology allows you to make fast and predictable changes to a design regardless of how the model was built. My last post focused on using the Steering Wheel to make these changes. For this post I want to illustrate how the Live Rules engine automatically manages geometry, keeps the model intact and maintains design intent during the change process.
Solid Edge with Synchronous Technology allows us the freedom to model without the need to apply geometric constraints to our design, then whilst making changes the Live Rules proprietary relationship recognition functionality finds and maintains any strong geometric conditions such as coplanar, tangent, concentric, parallel, perpendicular, symmetric, etc. It then keeps them that way right throughout the edit procedure. Imagine being able to drag any face of a model and have it change in a predictable manner – Live Rules achieves this for us. This is also true for imported data, Live Rules will allow us to make the same edits on data imported from any CAD system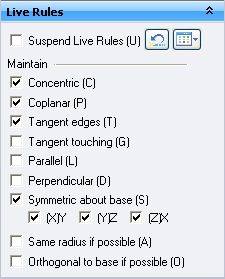 The Live Rules relationship manager allows us control exactly which geometric conditions are monitored and maintained.  The settings may be changed on the fly either by using the mouse or by using corresponding keyboard shortcuts. See an example of Live Rules in action below

View a higher quality version of this video
If more control is required during an edit, Live Rules has an advanced function which allows you to filter out exactly which elements are affected by the change. We will discuss this functionality in a future post.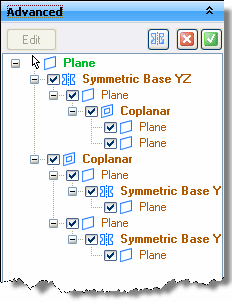 Keep an eye open for more information on Solid Edge with Synchronous Technology or subscribe to our feed for automatic notification.